RELEASED MARCH 15, 2011!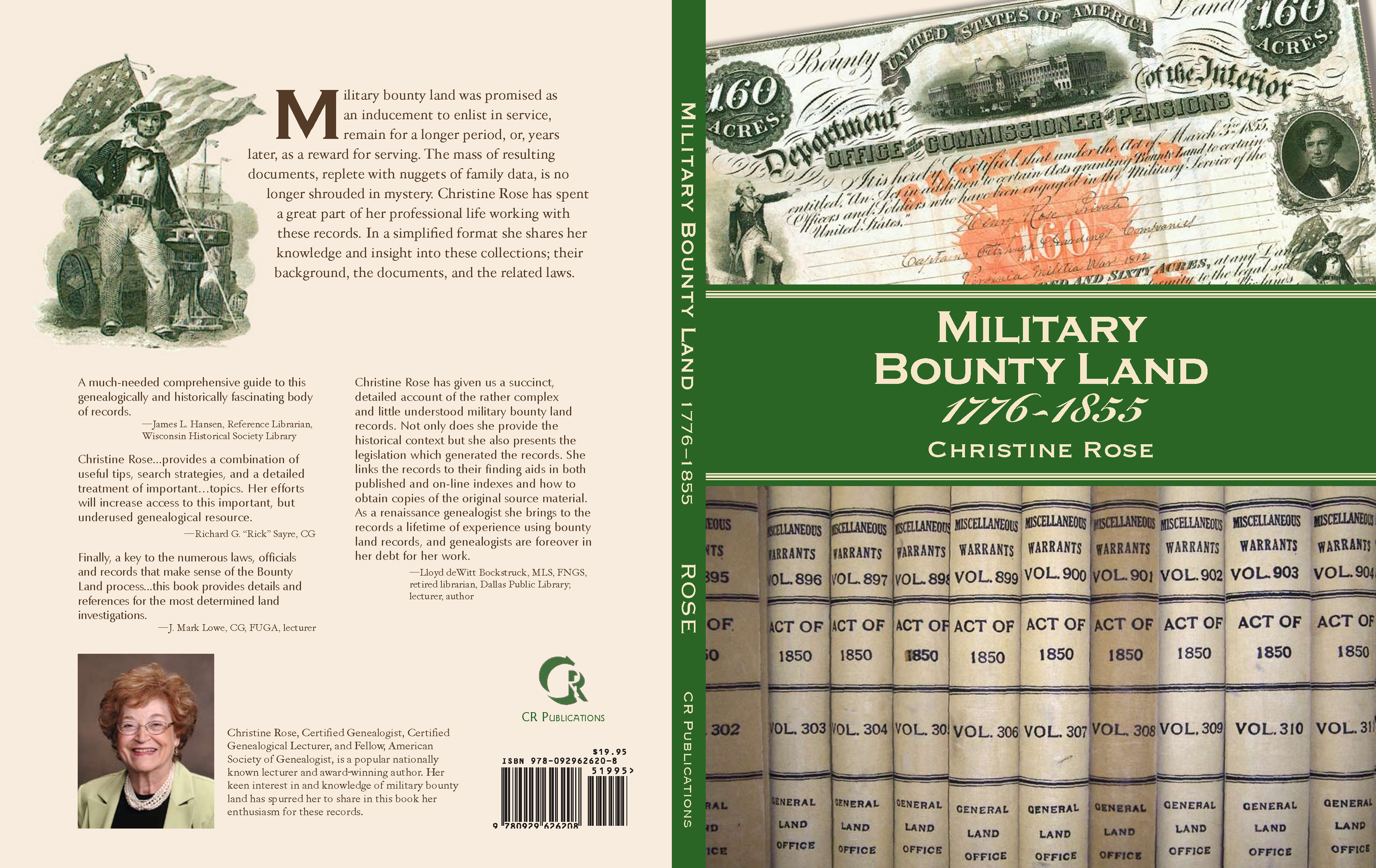 Military Bounty Land 1776-2011
New! Finally, a guide book covering all aspects of bounty land from the Revolution through the last bounty land act of 1855. This book explains in detail why bounty land was granted, who was eligible, and the process that was needed to claim it. Learn about these incredibly rich documents holding all types of family information! Also includes an appendix of the laws granting bounty land. An indispensible guide to learning about and accessing these important underused records.
Price $19.95. Total pages 176, 8 1/2 x 11. Add $4.90 postage.
ISBN 978-092962620-8

RELEASED OCTOBER 2009 3rd EDITION REVISED AND UPDATED!!
Genealogical Proof Standard: Building a Solid Case

This 3rd revised edition gives a clear explanation of the difference between the Genealogical Proof Standard and of the analysis and evaluation of evidence by which we build our case. It retains the readability of the last edition but leaves the reader with a better understanding of the five points of the GPS as distinguished from the three step classificzation process for evidence analysis. Many examples included.

Price: $9.95 plus $4.90 postage (priority) or $2.50 postage (media rate).

ISBN 978-0-929626-19-2





Courthouse Indexes Illustrated

This handy book illustrates over thirty indexes used in courthouses. Each has a simple explanation on use of the index. Don't miss records of your family because of a misunderstanding of how to use the index in that county! Useful for those who go to the courthouse personally, or those who use microfilm. 72 pages. Soft cover.

Price: $9.95 plus $4.05 (priority) or $2.50 (media) postage.
ISNB 0-929626-17-6

RELEASED MAY 2004 !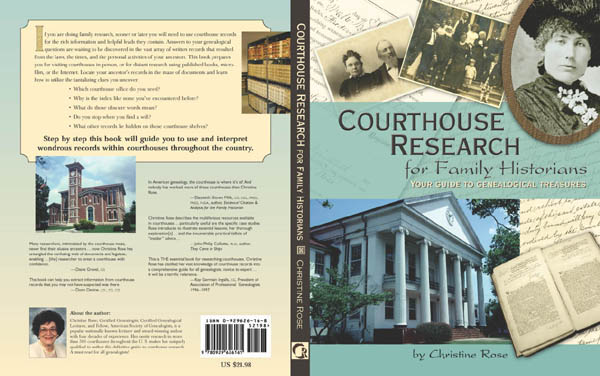 Courthouse Research for Family Historians:
Your Guide to Genealogical Treasures

The only guidebook devoted totally to courthouse research. From an author who has researched in more than 500 courthouses of the U.S. Christine starts with the preparation, giving advice on which courthouse to research first, how to prepare, and how to get past the clerks into the records. She then offers concrete examples of what will be found in each office, how to use the indexes in that office, and how to interpret what is found. Going beyond the location of the record, she discusses evaluation of the records, significance to your family's search, and many other facets of research. Written in a clear style, concise, and with many tips for novices to advanced researchers.

237 pp., fully illustrated and indexes. 8 1/2 x 11, soft cover
Price: $21.98 plus $4.95 shipping.

ISNB 0-929626-16-8

[An unsolicited recommendation! "I just finished your Courthouse Research for Family Historians book and then went to a lovely courthouse ... I had a new confidence and overview of what was available there thanks to your book ... I've done courthouse research a few times, and was on the way to becoming knowledgeable, but your book got me around the corner. Your descriptions of how the records are formed and how they come to be in the courthouse is invaluable. You are such a good, clear, concise writer. And, there is even a little nurturing in your book, for those who are a little nervous about going into the courthouse ... I will say that your courthouse book set me up well for ...[a] very efficient use of my time ... Thanks again, for a simply scrumptious book. It was like water to the parched in the desert." [Peggy Baldwin]

Send checks to:

Publications
1474 Montelegre Dr., San Jose, CA 95120-4831
California resides add 8 1/4 percent sales tax.
OTHER GUIDEBOOKS BY THIS AUTHOR
Nicknames: Past and Present
This hugely popular book is now in its 5th edition expanded 2007. The book was borne from the author's own frustration many years ago as a novice, to finally discover after a long search for non-existent ancestors, that "Patsy" was a common nickname for Martha, "Sandy" for Alexander, "Left" for Eliphalet, "Peter" for Patrick, and others. This led to the research of nicknames, and publication of this book.
Price: $9.95 plus $2.50 postage.

Family Associations: Organization and Management
Christine has been the editor of the Rose Family Association for many years. Her interest in family organizations led her into the only guidebook devoted exclusively to the needs of family associations. It covers manyissues: why organize, how to organize, examples of communication to prospective members, how to keep up interest, publishing a newsletter for the group, reunions, and many others. It also includes sample by-laws for those who wish to incorporate as a non-profit organization.
Price $14.95 plus $4.95 postage. 8 1/2 x 11, softcover, fully illustrated and indexed. Perfect bound.

Military Pension Acts: 1776 to 1858
Military records are full of genealogical gems. To gain an understanding of the laws which generated pensions, the statutes have been examined and those portions relating to the pensions have been reproduced in this book. Knowing how the law read will enable the researcher to understand the papers generated.
Price $9.75 plus $4.95 postage
8 1/2 by 11, spiral bind

Declarations of Intention from 1850 to 1870: Santa Clara County, California
For those with a relative who lived in this county, this book summarizes the Declarations of Intention in this period. Many of these early Californians filed their original papers in the east. In some cases birthplace, point of entry, etc. are given. In all cases the declarant stated the country for which he was renouncing his allegiance, thus indicating the country of his citizenship prior to the Declaration of Intention.
Price $9.50 plus $4.95 postage
Perfect bound

The Complete Idiot's Guide to Genealogy
(New York: Penquin/Alpha Books, 2005). By Christine Rose, co-authored with Kay Germain Ingalls. 2nd edition!
Price $18.95 plus $4.95 shipping. 382 pages. Perfect bound. Available from the author. (Or available from bookstores.)
NOTE: This book available January 2006 in its 2nd edition, expanded with new chapters on Internet and on DNA, and enhancements throughout the book.

ORDERING INFORMATION

Send checks to:

CR PUBLICATIONS
1474 Montelegre Drive
San Jose, California 95120-4831

Questions: Christine@Christine4Rose.com
Want to pay through PAYPAL for books? If so, send an email to:


Christine@Christine4Rose.com

Chistine will send an invoice by email - you can click on the PAYPAL option in the email to immediately pay.
Other Genealogies and Related Books Compiled by this Author

Ancestors and Descendants of Anson Parmilee Stone: Descended from John Stone of Guilford, Connecticut (San Jose, Calif.: priv. printed, 1963). Paper cover. Price: $9.95 plus $4.05 shipping

Descendants of Robert Rose of Wethersfield and Branford, Connecticut, Who Came on the Ship "Francis" from Ipswich, England in 1634. (San Jose, Calif.: Braun-Brumfield, 1983). Hard cover: 500+ pages. $38.50 plus $4.05 shipping.

Ancestors and Descendants of Rev. Robert Rose and Rev. Charles Rose of Colonial Virginia and Morayshire Scotland, and Information on Their Brothers Patrick, James, Hugh, George and Alexander (San Jose, Calif.: Braun-Brumfield, 1985). Hard cover, illustrated. Price: $25.00 plus $4.05 shipping.

[Above two Rose genealogies were recipient of the Donald Lines Jacobus award in 1987 by the American Society of Genealogists.]

David Christian Crummey and his wife Addie Maria Bean, Judson Lysander Gelatt and his wife Ella Venelia Dow. Limited edition for private distribution of client. (San Jose, Calif.: priv. publ., 1995). Not available for purchase.

The Knowles Family, Including the direct line from Henry1 Knowles of England and Providence and Warwick, Rhode Island, The Sheldon Family Including the direct line from John1 Sheldon of England and Providence and Pawtuxet, Rhode Island, being the ancestry of Edwin8Knowles and his wife Ethelge Sheldon of Rhode Island. Limited edition for private distribution of client. (San Jose, Calif.: priv. publ., 1996). Not available for purchase.

Rose War Files: Abstracts of Land Bounty Files
[over 400 land bounty files, Natl Archives, for Rose abstracted. Vol. 1. 1987. Soft cover. Price: $13.00 plus $4.05 shipping.

Rose War Files: Revolutionary Pension Abstracts
[Abstracts of all Rose revolutionary war pensions in M804 of the National Archives.Vol. 2, 1997. Price: $10.00 plus $4.05 shipping.

Abstracts of Early ROSE Estates Before 1850 (San Jose, Calif.: priv. printed, 1972). (Contains estate records from many Virginia counties on Rose) Soft cover. Price: $9.50 plus $4.05 shipping.

The Brothers Capt. Lewis, Matthias and Martin Rose, Sons of Gotlieb/Godlove Rose, of Germany; Virginia; Maryland, Pennsylvania; and Jefferson and Mercer Counties, Pennsylvania (San Jose, Calif.: priv. printed, 1972). Out of print, in revision.

Andrew Rose Family of Bucks and Mercer Counties, Pennsylvania (San Jose, Calif.: priv. printed, 1977). Soft cover. Price: $12.00 plus $4.05 shipping.

Ancestors and Descendants of Frederick Rose of Wayne and Hardin Counties Tennessee, North Carolina and Virginia 2nd edition (San Jose, Calif.: priv printed). Soft cover, illustrated. Price: $13.00 plus $4.05 shipping.

For availability and questions contact Christine@Christine4Rose.com